Wow! I first heard of BWRT from a glossy magazine that my friend was reading and as soon as I found out about it I knew I wanted to seek out someone who could help me. This was when I found Helen online. She really did help. To my joy and surprise I have been able to overcome a debilitating fear that I have carried with me all my life. It has really changed the way I think and react to what used to be an awful situation. Thanks Helen!
Joanne, 36
My life was affected by a long term fear of using a lift. This phobia caused inconvenience to both myself and my family in so many ways. Using a lift caused me anticipated anxiety, fear, distress and embarrassment so I would do anything to avoid it, I'd climb 10 flights of stairs if I had to! If there was no other way then I would have to hold on to my husband's arm, close my eyes and really struggled to control myself. I decided I needed to live my life free of all these debilitating emotions and decided to ask Helen for help. I was sceptical at first, that the outcome and difference could be so quick, but Helen explained everything so well, I just trusted her to help me. After undergoing just one session with Helen I went to a shopping centre the following day to test it out and I confidently used a glass lift and then went on to an enclosed lift, twice, and I was completely relaxed without all these negative emotions which is so liberating! I am so grateful!
Katherine, 65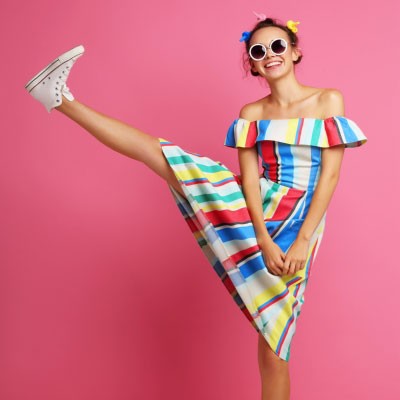 Before I contacted Helen I often put down certain bad habits in my life as just habits, ones I have cultivated and learned. Helen has completely broken down so many areas in my life that has allowed me to deconstruct the way in which I have formed ideas and thoughts that have created these habits in my life. She has helped me to take back control and understand that I have the ability to alter my destiny and not to be slave to any habit that I don't want in my life. Thank you Helen you have been amazing!
Dorlisa, 42
I initially contacted Helen on the basis of wanting to change my outlook to life in general. I knew I wasn't happy with how I acted and dealt with certain issues and reactions to people's comments or just how I reacted in general. It was like I often did things without really wanting to, often resulting in disliking myself for doing so. I used to look for a quick fix to my issues I soon realised that I need proper help. Helen completely changed my outlook to life, my understanding of my inner self and I have made a lot of progress in becoming the person I want to be. She has helped me to love myself. Helen is an extended part of my life now, she is someone I can trust who I know can give me clarity of understanding through her questioning. Knowing I can lean on her during our sessions gives me an inner confidence in my life.
Louise, 34
An email from a client; "Thanks so much for your understanding and I know you will help me to get to where I want to be with your kindness, passion, empathy and truly innovative mindset. You are truly wonderful and I am so blessed to have come across you. I am so excited for my future adventures and endeavours. Thank you for a shining light on what looked to be a hopeless situation for me. You are slowly reminding me of who I was and who I hope to be."
A, 24.
Helen is such an easy person to talk to. Her empathy and willingness to listen to every detail with so much compassion makes it that you can share anything with her and not feel exposed. The wisdom and counsel that comes from Helen can only be divine and there is such an assurance that your "matter" is prayed for .Her support through difficult situations is next to none.
K, 42
One of the hardest decisions for anyone to make is asking for help and above that: knowing who to ask. As someone who can be closed off to trusting people, Helen proved to be an immense breath of fresh air. She was excellent in identifying my need for help and promptly making herself available in a non-intrusive way; which I really needed. Being swarmed by a multitude of opinions in a particularly trying time can be extremely frustrating but with Helen's help I was able to get through the situation feeling reassured and comforted with the promise that she would always be a mere call away.
J, 19